How to Check Transmission Fluid

The time has come for you to get ready for a new adventure near Saco, Portland, and Scarborough, Maine. That means you'll have to make sure you have everything together for the trip, from friends and family to essential cargo. You'll also want to make sure that your car is prepared for the trials of the road ahead—we're here to help you do just that.
Your car's transmission is an essential part that keeps you moving. Our guide on how to check your transmission fluid will help you see when it's time for your own maintenance. Once you know what to look for, you'll feel like an expert ready to take charge. See what our service experts at Volkswagen Saco can teach you!
---
What Is Transmission Fluid?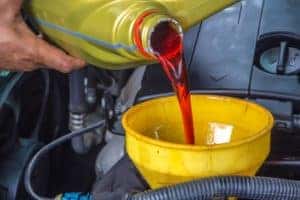 If you want to fully understand what this service entails, we'll start with the basics. Whether you have an automatic or manual style system, your transmission system shifts your car into different gears to optimize power. As you gain speed, you'll shift into higher gears so that power from the engine is put to good use.
Transmission fluid rests within your transmission system. It keeps the many moving metallic parts lubricated to prevent any damage from wear and tear. Proper lubrication is essential for long term health. It's important to note that there are different fluids for automatic and manual systems as well!
---
Checking Transmission Fluid
Unlike other fluids in your car, your transmission fluid should remain fixed. That means if the levels are decreased for any reason, there is likely a leak somewhere that will need to be repaired. Should you determine you need a transmission fluid replacement and leak fix, our certified technicians are here to help.
Here's the simple guide on how to check out your transmission fluid:
Park on a level surface and leave your engine running. A flat surface is essential to learning the actual level and letting the engine warm up helps make for an accurate reading.
Find the transmission fluid dipstick. This is often located near the rear of the engine and looks similar to your motor oil's dipstick.
Take the dipstick and wipe it clean. Reinsert the clean dipstick fully and remove it again.
There are two levels marked on your dipstick for "cold" and "warm." Since your engine is warmed up, look for the latter mark. If the fluid does not reach this level, you will need more transmission fluid in your system.

You can add your own transmission fluid if you know what your vehicle takes. It's strongly recommended that you use a funnel, as spilling fluid onto your engine could lead to more issues.
When adding your own transmission fluid, take it slow—you can always put more in, but taking it out is another story. Add a bit at a time until your fluid meets the "warm" notch on your dipstick.
If you end up adding transmission fluid, be sure to schedule a service visit in the near future. There may be a leak that needs fixing, and a certified technician is the right person for the job.
---
Check Your Transmission Fluid Today
Once you check your transmission fluid level, you'll be confident in your next drive through Saco, Portland, and Scarborough, ME. Contact our service team at Volkswagen Saco when you need expert service!
---